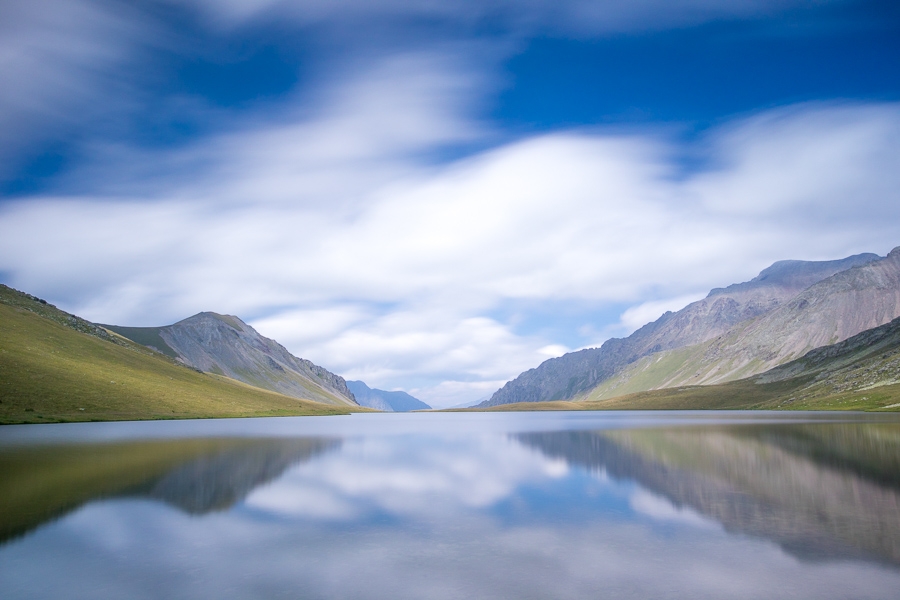 We arrived in Azerbaijan and got a lift close to Baku. We would have had a crazy head wind so we preferred the small truck. The next day we had a stroll around town and met up with the other guys that were on the boat with us. You could definitely see that we had taken a big step towards the West and Europe. 
After only one day in town we left, cycling further West along the mountain side. At first it was only empty and brown rolling hills, before we entered farm land and passed small villages. On the second day we decided to take one road further away from the mountains to safe heaps of elevation. We first got invited at a nice tea house along the road and later in the afternoon while looking for a place to camp we got invited again. We spend a nice evening together with some locals and could have a nice shower :). Two more days and some hills in Azerbaijan and we already entered Georgia. 
That day we decided to treat ourselves and take a guesthouse in the first village behind the border. We didn't know that an amazing national park and hiking opportunities were waiting for us. After learning about these options we decided to have a day for resting and do a three day hike through Lagodekhi National Park after. 
It was an amazing hike. The first day it was all up hill, but we were pretty fit from the cycling so we arrived at the first hut already at 2pm and had time to relax. That evening we met the others who did the hike and were heading the same way and would be at the same hut the next day again. It was a nice group, many Germans, two Belgians and a Dutch girl and Israeli guy. The two Belgian girls were on horses with a guide so he definitely introduced us well to the Georgian lifestyle. We drunk quite a bit of Chacha (the Georgian Vodka) that evening, heard many toasts and had plenty of food. The next day was not that steep and we started in the morning above an ocean of cloads - amazing. In the early afternoon we arrived at the Black Rock Lake. A Lake directly at the border to Russia. You actually have to get registered to enter this area. Half of the lake is already in Russia and you're not allowed to walk around it. There were just another three kilometers left after the lake until we reached the next hut. We had a great view down into a valley, but after dinner we all went to bed rather early. On the last day we descended 2100m - you will definitely feel it in your legs! But because we were down at noon time already we decided to have a look at a small waterfall as well. The 2,5 km to it were really cool but also not as easy as we thought it would be. Still, we enjoyed a refreshing bath at the end befor heading back to our guesthouse. We needed a day off after all the down hill and kept cycling towards Tbilisi the day after. And another half of a day later we already arrived in town. We could pick up Droni again (as we had to send it over from Kazakhstan) and found a nice hostel (Nomad). In the evening we met with the guys from the boat again and had a good night out, enjoying the nightlife of Tbilisi. Two more days of relaxing and exploring town and it was already time to leave. 
We getting closer and closer. 
Keep cycling, 
Jonas, Droni and Vroni